EK What did you feel when you received the news that you had won the ICMA award?
EG Joy and happiness! To perform with the Lucerne Symphony Orchestra is a great event for any professional musician. This award should definitely be the impulse for my further development. I feel great responsibility while representing my country in the event. And, of course, it is a great honor to take part in such a significant ceremony in the world of classic music along with the world-famous masters.
EK You are 14 years old, and by the moment you've managed to get the laureate titles in 40 contests! That means that about 4-5 times a year you take part in competitions. Is that hard?
EG Contests are very important for a life of any musician, because it is an opportunity to show yourself up for the large audience. Every contest I take in as an opportunity (not a trail) to gain new experience and engagements. After the contests I've been invited to various festivals and concerts, this is important, and this is one of the reasons why I continue my competitive marathon.
EK There is an opposite opinion, that the contests impede the development of an artist and enrichment of his repertoire, as soon as a guy moves from one contest to another and play the same old set of musical pieces.
EG This is absolutely not my case. I always change the program at contests. The musical program should be constantly renewed, and the repertoire should be expanded and developed.
EK Last year you were granted with a recital in the Theater of Ferrara. Was it interesting? What did you perform?
EG Yes, it was a wonderful experience – an amazing theater, a very beautiful hall and, a warm welcome from the audience. I performed Bach's Toccata in G major, Beethoven's Sonata No. 10, Schumann's Sonata No. 2 in G minor, Liszt's Sposalizio (The Betrothal) and Spanish Rhapsody, and Chopin's Polonaise fis-moll. As an encore, I performed the Liszt's Transcendental Etude "The Snowstorm", and the Rachmaninov's Italian Polka in Arcadi Volodos's version.
EK Quite а standard set of classical works. Why not to come up with some kind of conceptual or thematic program?
EG Regarding the repertoire, I always ask advice from my wonderful teacher, professor at the Moscow P.I. Tchaikovsky Conservatory Nataliya Trull. I play, for example, quite a few non-standard and rarely performed pieces, like Friedrich Gulda, Pierre Sancan, William Bolcom, Joaquin Rodrigo, Ernesto Lecuona. As for the thematic programs, a couple of years ago I had a recital of Chopin's works: all the Études op.10, Scherzo No.2, Ballade No. 3. At a recital in Novouralsk I performed the whole cycle of Tchaikovsky "The Seasons", in Yerevan – all the "Moments musicaux" by Rachmaninov.
EK You always wear beautiful concert dresses – princess dresses I would say. Is the way you look on stage important to you?
EG You can not go on stage without thinking how you look like. Of course, I pay more attention to the way I play, to the sound itself – outfits are not the most important.
EK Do not be shy. Dresses can also inspire. At the same time, there is a modern style: Julianna Avdeeva performs, for example, in the tailcoat "à la garçon" …
EG I performed several times in pants and a tailcoat. Comfortable, but in dress I feel more feminine and sophisticated.
EK Do you have a tradition, or a rule how to concentrate before a concert?
EG I always remember that I play not for myself, but for the audience, it really motivates me. Sometimes you get distracted by the lines like "what a responsible performance", "what an important hall", "how scary", and so on, and this is important to think not about these things, but how to give people emotions, good mood, and positive afterthoughts.
this is important to think not about these things, but how to give people emotions
EК You have been to «Sirius» in Sochi several times. Could you share your impressions?
EG "Sirius" is a wonderful camp for gifted children from all over Russia, and I am happy that I was there three times, both as a pianist and as a composer. Thanks to "Sirius" I had аn opportunity to make many friends and work with high qualified teachers. The atmosphere in the educational center is very friendly; we were all like one big family. The food was very tasty as well.
EК Who did you work there with?
EG As for piano – with Elena Rudolfovna Richter, Tatiana Mikhailovna Zagorovskaya and Evgeny Vladimirovich Mikhailov, who invited me to participate in the International festival in Kazan "Piano without Borders" and perform in the S.Saydashev Grand Hall. As for composition, my teachers were Kuzma Aleksandrovich Bodrov, Igor Efimovich Rogalyov and Natalya Nikolaevna Karsh.
EК You participated in the program "Non-child Talk" and even asked the President a question. Did you prepare it in advance? What was the question addressed to the first person of the country?
EG The question, that I asked Vladimir Putin, had been bothering me for a long time, as well as all my friends who study in special music schools. I asked him about the examinations in the 9th grade, or rather, about the possibility for all musically gifted students to pass the exams in music subjects, such as theory, music literature, solfeggio, or harmony, instead of two exams of choice from general education subjects. The President said that he would think it over together with his colleagues, and I still hope that he will do us a favor. It would be a great relief for professional musicians, since we spend a lot of time studying these particular subjects.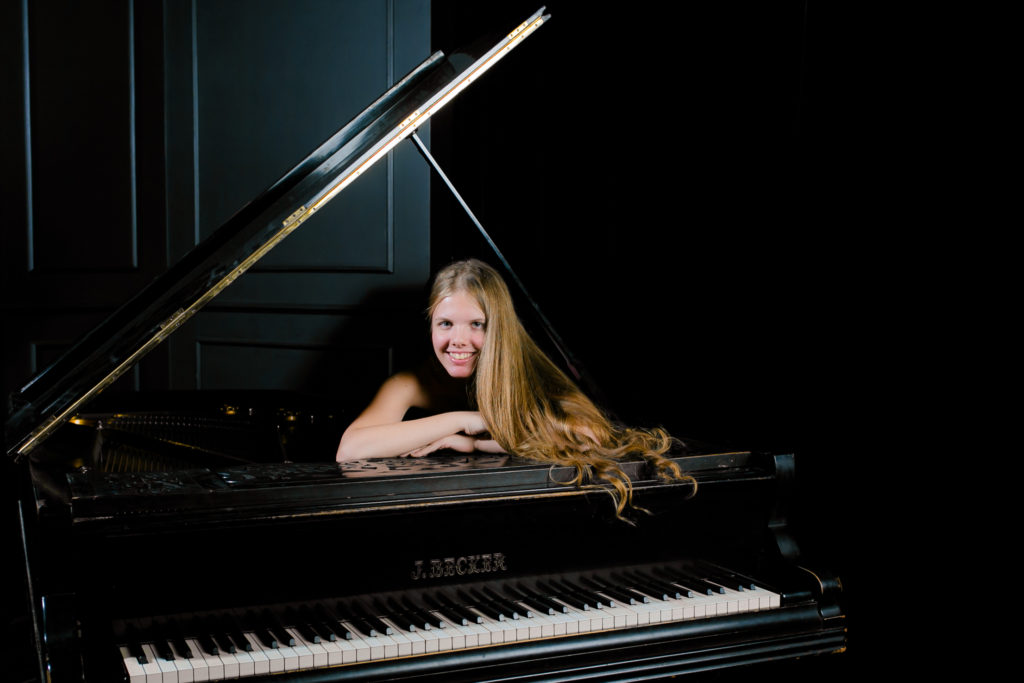 EK You mentioned composition. Do you think that in the future а composer can push the pianist out of you?
EG I mainly compose chamber music and works for piano, I experiment with different styles. Now it is impossible for me to devote a lot of time to composition, I would like to compose more in the future, but I don't think it will totally replace the performance.
EK You have already visited many countries, do you have an experience of performing in some unusual places?
EG The most unusual place … I played in Italy, in the city of Chieti, in the museum. Along the perimeter of the hall, there were located test tubes and jars with animals conserved in alcohol. It was a bit creepy.
EK You are only 14 years old, do you sometimes want to entertain? Do you have time for it?
EG When I am on trips I get acquainted with different cities, I study, I have wonderful friends at school, we walk and spend time together. I also like to learn new languages – as my piano teacher always tells me, and I'm aware that a musician should develop comprehensively, read books, watch movies, to go through emotions that can be implemented in music. And I also love to grow plants: I have cactuses growing in my kitchen, they listen to my music, and they bloom even in winter! I love it!
EK Do you buy cactuses especially?
EG At first, yes, and then, having learned about my hobby, people began to bring them at concerts.
EK What instrument do you have at home?
EG I have a "Yamaha" piano, it stands in the kitchen – the only place in the apartment where it can not be heard by the neighbors.
EC Don't they approve your profession?
EG I suppose I rehearse so much that they are tired of it.
EK Once more to the topic of contests. Does a laureate title from the Grand Piano Competition mean something special to you?
EG Of course. Grand Piano Competition brought not only engagements, but made me more recognizable and famous for the fans of classic music. Being in the team of Denis Matsuev is like getting into the Olympic Champions League, it is very cool.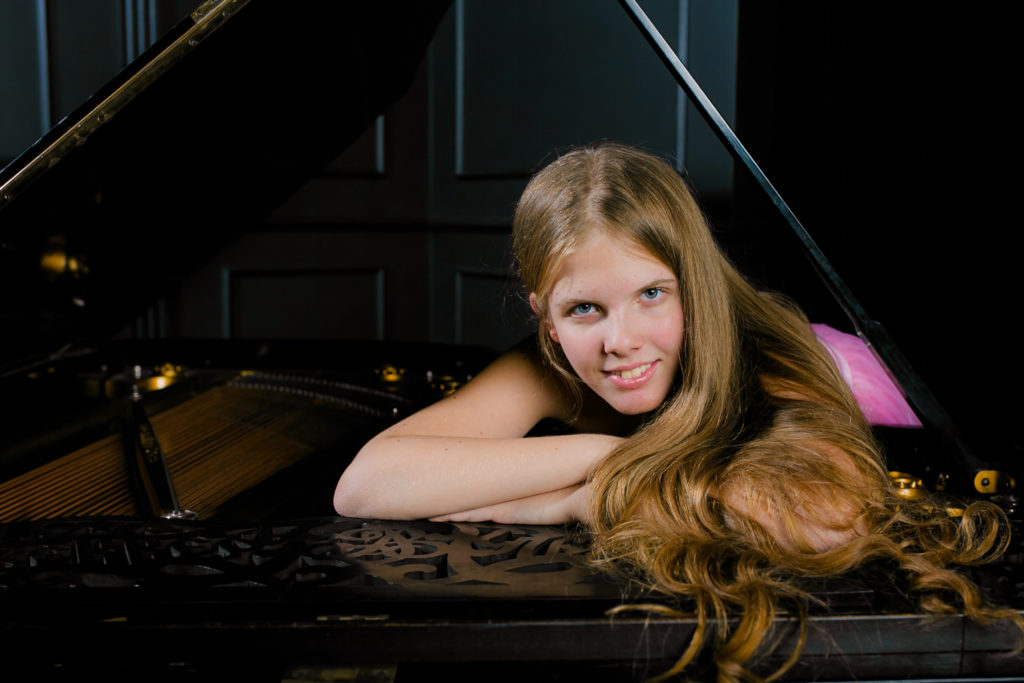 Русскую версию статьи можно прочитать здесь
We are grateful to Radio Orpheus for translating the text into English